Advanced IT tools and communication methods in (not only) scientific work – summer school in English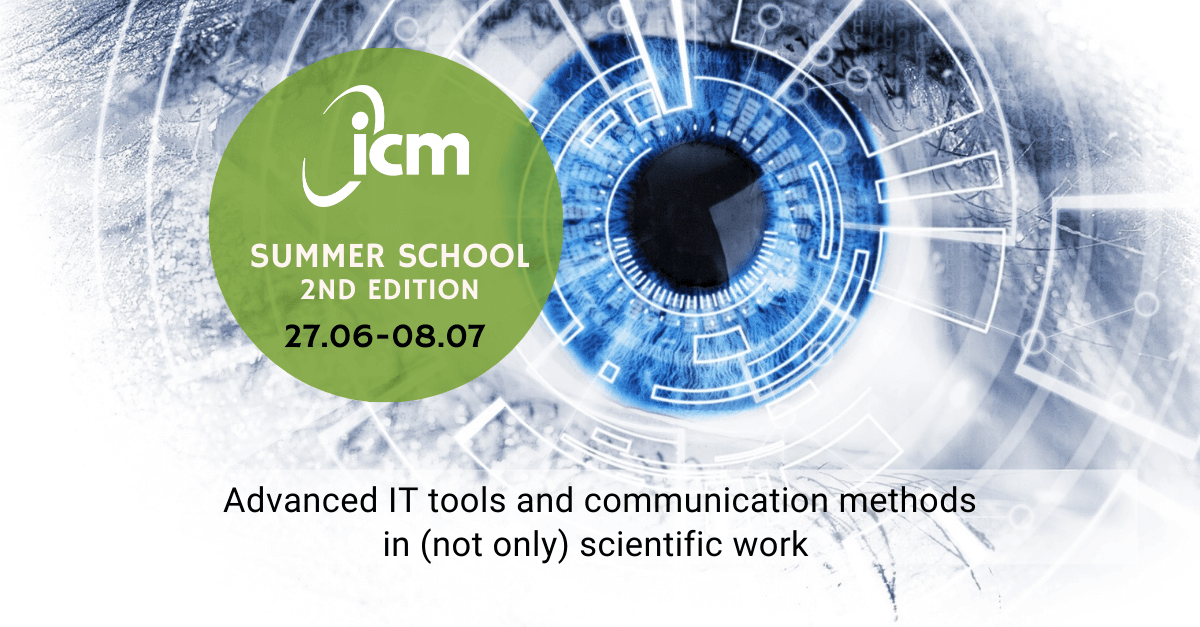 ICM invites students of all faculties from University of Warsaw to participate in the summer school in English "Advanced IT tools and communication methods in (not only) scientific work".
Dates: 27 June – 8 July 2022
Form of classes: on-site
Location: ICM Data Centre, Kupiecka 32, Warsaw
Description
Regardless of the field of science, each researcher faces the necessity to work with larger and larger sets of digital data. On the one hand, we have a lot of knowledge available at our fingertips, which was beyond our reach several decades ago, and on the other hand, it is a huge analytical challenge. The proposed student summer school aims to show IT tools and techniques that allow for effective work with large data sets. Popular spreadsheets are general purpose tools, but they come with the limitations of the precision of calculations or the size of data sets, and low performance. As a result, they are no longer sufficient for research work. During this summer school, students will have the opportunity to learn about software dedicated to data processing in specific fields of science and learn how to use them in practice.
In addition, 25% of classes will be devoted to expanding the so-called soft skills. The afternoon classes collectively entitled "More or less technical language: an introduction to the art of communication" is an introduction to the theory of communication and the methods of constructing a visual message. These classes will provide practical tips for photography, which will allow participants to take "better" photos, meaning those that more accurately convey the intention of the author and will remain in the memory of the recipients for a longer time. The examples will be selected according to the needs of young scientists and will include tips on how to prepare a graphic abstract for an article, materials documenting or popularizing a given research field, and ways to attract the attention of recipients to the conference poster.
Who is this course for?
The participant of the summer school can only be a student of the University of Warsaw with the status of a student throughout the duration of the summer school.
After graduating from summer school, students obtain 5 ECTS points in the general university subject category. Registration in USOS will take place after the recruitment is completed.
Recruitment
Start of recruitment (1st round): April 28, 2022 at 4:00 p.m.
End of recruitment: May 18, 2022 at 11:59 p.m.
Start of recruitment (2nd round – will be launched if the pool of available places is not exhausted in the 1st round): May 23, 2022, at 12:00 p.m.
End of recruitment: June 12, 2022 at 11:59 p.m.
Limited number – 25 people.
Documents to download
Contact
Please send all inquiries by e-mail to the following address: szkola.letnia[at]icm.edu.pl