Social Diversity in Warsaw – a meeting for the residents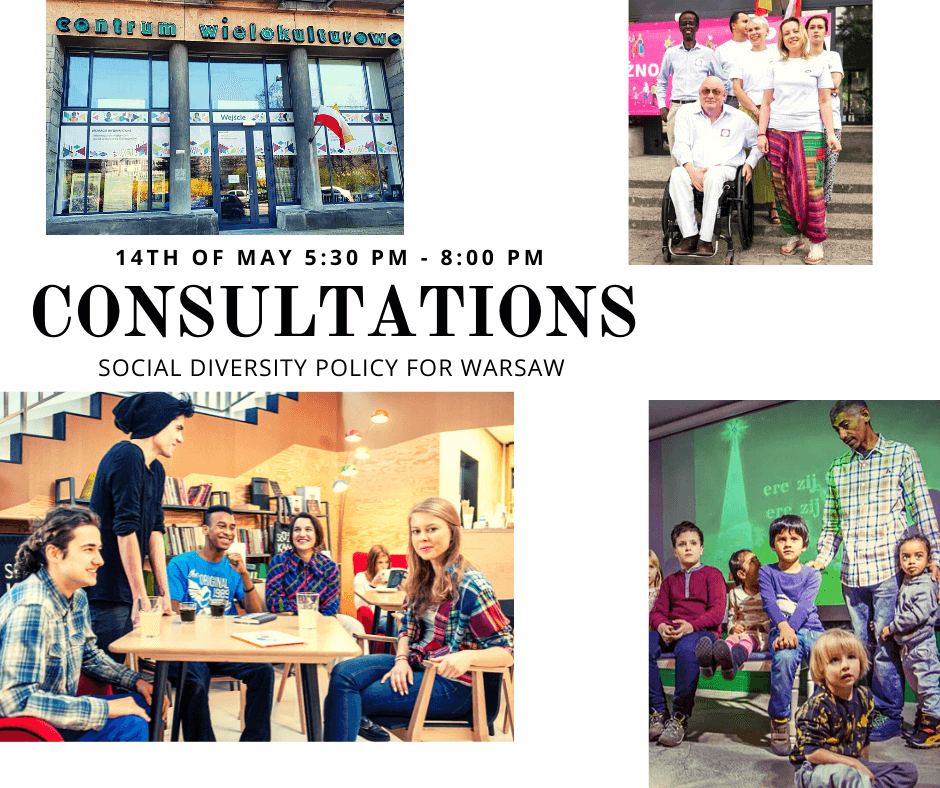 The City of Warsaw aims to make the city inviting and inclusive to every resident and is currently organizing consultations on the social diversity policy. You, as the residents of the city, are invited to participate and voice your insights as international students and share concerns or comments on the proposed policy.
The meeting takes place tomorrow on Zoom and in order to participate you would need to write an email to: 
rownetraktowanie@um.warszawa.pl
• May 14th (Friday) from 5:30 PM – 8:00 PM (meeting in Polish)
• May 14th (Friday) from 5:30 PM – 8:00 PM (meeting in English)
The invitation from the city is attached below.
—-
Can you be yourself in Warsaw?
Is Warsaw a good place to live for young people?
Do you feel at home here?
There are many things that make us, residents of Warsaw, different from each other. We want everyone to feel good in our city and to be treated equally, regardless of their age, disability, gender, gender identity, marital status, skin colour, religion, sexual orientation, social class or national and ethnic origin. Our diversity is our strength.
This is why we are currently working on the Social Diversity Policy for Warsaw. This document will set guidelines for city authorities and officials, so that Warsaw becomes a greater place to live for all of us.
We would like to invite you to participate in the process of creating this document with us.
Public consultations will take the form of a workshop during which we would like to work out the main assumptions of the document together with the residents.
It is important for us to get to know the perspective of various social groups, thus we will be very grateful for distributing this invite among other students and people who might be interested in the subjects of social diversity and equality.
All meetings will be held online on Zoom. To participate in the meeting, please select one of the times listed below and send an email to the address: rownetraktowanie@um.warszawa.pl
May 14th (Friday) from 5:30 PM – 8:00 PM (meeting in Polish)
• May 14th (Friday) from 5:30 PM – 8:00 PM (meeting in English)
Places are limited and priority will be given based on the order in which participants register.
For more information visit www.konsultacje.um.warszawa.pl/roznorodna